Last couple weeks have been busy but I think we're going to be able to settle a bit before the holidays arrive. Two weeks ago I was able to go see my family in Chicago. My mom is back in Tennessee and my brother Larry came into town for a couple weeks to make some contacts with skate shops in the midwest. Also I was the best man in my buddy Bryon Spaeth's wedding. Drove down to Indy with another good friend who was in my wedding, thanks for your mad navigation skills Dave. Anyway it was a great time road trippin' but man it was a slammed weekend. Drove down Friday mid-day did lots of pre-wedding stuff/rehearsal and having a beer with the groom that night talking through stuff. Also picked up another friend (also named Dave) from the airport at 1.30 in the am. Got to bed at 2.20 and had to wake up around 7.30. Bryon was married to Allison by 12.45 that day. All went well and the Dave's and I were back on the road by 5-ish.
Also had my bro come up to Madison and did some sales calls to the three skate shops here in town. It was really great hanging with Larry and seeing him do his thing. Someday I hope to be the midwest rep for Guy Skinny.
Now onto what you all come here for. Pictures of my son.
Appropriate image for Halloween I think...
Heidi wanted me to artsy fartsy, but it's really hard to do with a point and shoot camera. Actually it's not hard to do, it's near impossible, especially when I'm not gifted in that particular area.
Mom loves the costume. The one wearing it, not so much.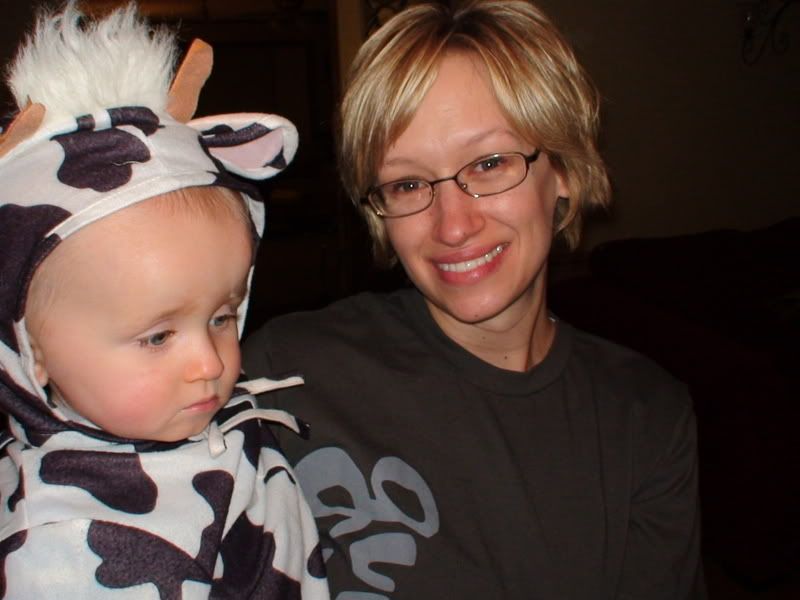 Shouldn't I be a bull?
Moo.